The Palterton Curriculum - Mathematics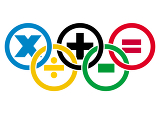 Mathematics introduces children to concepts, skills and thinking strategies that are essential in everyday life. Mathematical thinking and understanding underpin learning and development in the wider curriculum, and therefore it is a central element of learning in our school.
Our mathematics curriculum is based on the National Curriculum for England for Years 1 to 6. We use the Foundation Stage Development Matters document to support planning of mathematical learning in the Foundation Stage (Renishaw Class).
There are Four Key Areas in the mathematics National Curriculum for Years 1 to 5:
Number

Measurement

Geometry

Statistics
In Year 6 the National Curriculm introduces two additional Key Areas:
Ratio and Proportion

Algebra
Maths is taught on a daily basis throughout school. Wherever possible we make links with our creative curriculum and work hard to show how maths links to every-day life. Maths might be taking place outdoors, in Science, Design and Technology, History, Geography in fact across the whole of our curriculum! The emphasis is on maths being investigative and hands on whenever possible and now there is an emphasis on embedding maths in Science as well as the Topics we study.
There is now a school-wide focus on knowing the times tables thoroughly, which means in order, out of order as well as the associated division facts. Each teacher uses the Maths lessons to create opportunities for the children to learn them thoroughly, with the children understanding they need to put in time out of school if necessary. There is an increasing emphasis on the children developing a Mastery of Maths, whereby they know what to do but also have a secure understanding of the maths behind it so multiplying by ten is not just add a 0 but recognise what is actually happening to the numbers. Teachers use challenging tasks, for example Chilli Challenges where the children choose the level of challenge and show their depth of understanding by explaining and reasoning more.
Resources we use to support our teaching
We use a wide range of resources to support learning in mathematics. Many of these are designed and made by our teaching teams to match the specific needs of classes and individual pupils.
To compliment our team's high quality lessons and resources we regulalry use the following commercial resources to support learning and teaching:
The school also uses the Abacus scheme to supplement the Maths teaching with children working on practical and investigative activities. We also use websites like Nrich to add extra activities and challenges to the maths lessons. Please try the links below for games to play and further information.