The Palterton Curriculum - Mathematics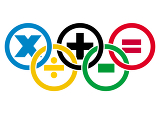 Mathematics introduces children to concepts, skills and thinking strategies that are essential in everyday life. Mathematical thinking and understanding underpin learning and development in the wider curriculum, and therefore it is a central element of learning in our school.
Our mathematics curriculum is based on the National Curriculum for England for Years 1 to 6. We use the Foundation Stage Development Matters document to support planning of mathematical learning in the Foundation Stage (Renishaw Class).
There are Four Key Areas in the mathematics National Curriculum for Years 1 to 5:
Number

Measurement

Geometry

Statistics
In Year 6 the National Curriculm introduces two additional Key Areas:
Ratio and Proportion

Algebra
There is a more detailed explanation of each Key Area further down this page.
Resources we use to support our teaching
We use a wide range of resources to support learning in mathematics. Many of these are designed and made by our teaching teams to match the specific needs of classes and individual pupils.
To compliment our team's high quality lessons and resources we regulalry use the following commercial resources to support learning and teaching:
Measurement
Add details of measurement
Statistics
Add details of statistics
Ratio and Proportion
Add details of ratio and proportion