R.E. at Palterton Primary
As a school we have adopted the Derbyshire and Derby City Agreed Syllabus for Religious Education. The National Curriculum states that every school must offer a broad and balanced, which promotes the spiritual, moral, cultural, mental and physical development of pupils at the school and of society and which prepares pupils at the school for the opportunities, responsibilities and experiences of later life. All state schools must teach R.E. to pupils at every key stage.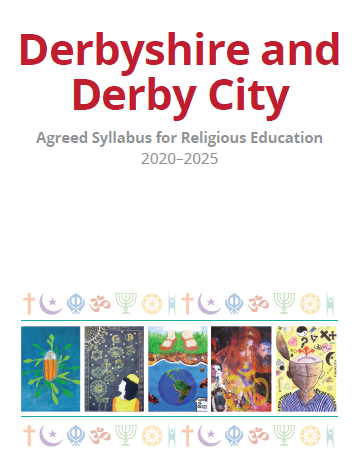 R.E. Intent - What is R.E. for?
Palterton School believes the aim of R.E. is to engage pupils in the systematic enquiry in signifiicant human questions which religion and worldviews address, so that they can develop the understanding and skills needed to appreciate varied responses to these questions, as well as develop responses of their own.
For the children this means:
A chance to consider the big questions about life, to find out what people believe and how that affects the way they live, in order to make sense of religion and worldviews, reflecting on their own thoughts, ideas and ways of living.
R.E. Implementation - What will the children learn in R.E. ?
The R.E. syllabus sets a key question for each unit of learning, these are catergorised into learning about Believing (religious beliefs, teaching and sources; questions about meaning, purpose and truth), Expressing (Religious and spiritual forms of expression; questions about identity and diversity) and Living (religious practices and ways of living; questions about values and commitments).
As the children progress through school they discover these aspects of learning, then explore them before connecting them together towards the end of their primary education. Once the children move on to secondary education they build on this by interpreting and applying their learning. The predominant monocultural and mono-religion nature of our immediate community increases the importance of learning in R.E.
R.E. in the Early Years - Reception - Renishaw class
Learning in Renishaw stems from the children's own experiences plus the religious and spiritual experiences from families. The learning in R.E. sits firmly with the children's Personal, Social and Emotional development and Understanding of the World enabling the children to develop a sense of self, others plus explore how to form positive and respectful relationships. We expect children to begin to understand and value the differences of individuals and groups within their own community as well as develop emerging moral and cultural awareness. The learning in Renishaw is mapped out as follows in a one year repeating cycle:
| | | | | | |
| --- | --- | --- | --- | --- | --- |
| Autumn Term 1 | Autumn Term 2 | Spring Term 1 | Spring Term 2 | Summer Term 1 | Summer Term 2 |
| Where do we belong? | Which times are special and why? | What is special about our world? | Which people are special and why? | Which places are special and why? | What stories are special and why? |
| Christians, Hindus and Muslim | Christians, Hindus and Jewish people | Christians, Hindus and Jewish people | Christians, Hindus and Jewish people | Christians and Muslims | Christians, Hindus and Muslim |
R.E. in Key Stage 1 - Years 1 & 2 - Ilam class
Learning in Ilam develops the children's knowledge and understanding of religions and worldviews, recognising their local, national and global contexts. The children will use basic subject specific vocabulary as well as raise questions about their learning. The chidlren will begin to express their own views in response to the materials they learn about. The learning in Ilam is mapped out as follows in a two year repeating cycle:
Autumn Term 1
Autumn Term 2
Spring term 1
Spring term 2
Summer Term 1
Summer Term 2
Cycle A
Who is a Christian and what do they believe? (part 1)
How and why do we celebrate special and sacred times? (part 1)
Who is a Muslim and what do they believe? (part 1)
What does it mean to belong to a faith community?
What makes some places sacred?



Christians

Christians, Hindus and Jewish people

Muslims

Christians, Hindus and Jewish people

Christians, Hindus and Jewish people




Cycle B
Who is Jewish and what do they believe?
How and why do we celebrate special and sacred times? (part 2)
Who is a Muslim and what do they believe? (part 2)
Who is a Christian and what do they believe? (part 2)
How can we learn from sacred books?
How should we care for others and the world, and why does it matter?

Jewish people

Christians, Hindus and Jewish people

Muslims

Christians

Christians, Hindus and Jewish people

Christians and Jewish people
R.E. in Key Stage 2
Learning across key stage 2 extend the children's knowledge and understanding of religions and worldviews, recognising their local, national and global contexts. The children are introduced to an extended range of sources and subject specific vocabulary. they are encouraged to be curious and ask increasingly challenging questions about religion, belief, values and human life. The children learn to express their own ideas in response to the materials they engage with, identify relevant information, select examples and give reasons to support their ideas and views. The learning across Chatsworth and Hardwick classes is mapped out as follows in two year repeating cycles:
R.E. in Lower Key Stage 2 - Years 3 & 4 - Chatsworth class
| | | | | | | |
| --- | --- | --- | --- | --- | --- | --- |
| | Autumn Term 1 | Autumn Term 2 | Spring Term 1 | Spring Term 2 | Summer Term 1 | Summer Term 2 |
| Cycle A | What does it mean to be a Christian in Britain today? (part 1) | What does it mean to be a Hindu in Britain today? (part 1) | Why is the Bible so important for Christians today? | Why are festivals important to religious communities? | What do different people believe about God? | Why do people pray? |
| | Christians | Hindus | Christians | Christians | Christians and Hindus | Christians, Hindus and Muslims |
| Cycle B | What does it mean to be a Hindu in Britain today? (part 2) | What does it mean to be a Christian in Britain today? (part 2) | Why are festivals important to religious communities? | Why is Jesus inspiring to some people? | What can we learn from religions about deciding what is right and wrong? | Why do some people think that life is like a journey and what significant experiences mark this? |
| | Hindus | Christians | Jewish people | Christians | Christians, Jewish people, non-religious people (Humanist) | Christians, Hindus and Jewish people |
R.E in Upper Key Stage 2 - Years 5 & 6 - Hardwick class
Autumn Term 1
Autumn Term 2
Spring Term 1
Spring Term 2
Summer Term 1
Summer Term 2
Cycle A
Why do some people think that God exists?
What does it mean to be a Muslim in Britain today? (part 1)
What matters most to Christians and Humanists?
What would Jesus do?
If God is everywhere, why go to a place of worship?



Christians, non-religious people (Humanist)

Muslims

Christians, non-religious people (Humanist)

Christians

Christians, Hindus and Jewish people

Cycle B
What does it mean to be a Muslim in Britain today? (part 2)
What difference does it make to believe in Ahimsa, Grace and/ or Ummah?

Is it better to express your beliefs in arts and architecture or in charity and generosity?
What do religions say to us when life gets hard?



Muslims

Christians, Muslims and Hindus (recap)

Christians, Muslims and non-religious people (Humanist)





Christians, Muslims and non-religious responses
Back Lane, Chesterfield, Derbyshire S44 6UN
01246823143
info@palterton.derbyshire.sch.uk