Female Football Fantastic by Captain Nyah
Female Football Fantastic by Captain Nyah
24 October 2017 (by admin)
Girls district football team competition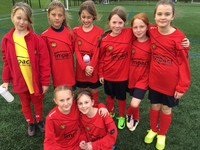 On the 10th October 2017 we travelled to Shirebrook Academy to play some matches. We left at 3:15pm and played five matches altogether. Our first match was against Clowne Junior, which we won 1-0 with a goal from me. All our teams had time to have a break and now was our time to sit out and get a drink, so we watched the team we were playing next to get some tips of how they played. In the second game we played Scarcliffe and we had eight minutes to score a goal, but missed our chance, and sadly the other team took their chance and scored once. We shook hands and said well done to each other, remembering to keep our heads up. Our third match was against Kirkstead which was tough game but we worked hard together and finished a nil-nil draw.
Our results meant we went through to the semi-final against Glebe Junior. This was our toughest match and we lost to this team that went on to win the competition in a tense penalty shoot out.
The team played really well together especially the year 4 girls who were playing for the first time in a competition - they showed no fear and kept going in every game.
RICH awards
Respect - Georgia
Innovation - Lucy
Challenge - Olivia
Happiness - Chelsea